Former Winner List: 2016
Grand Prize Winner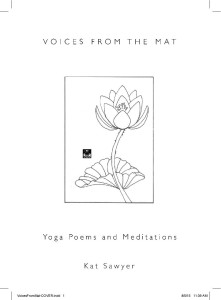 Voices from the Mat
By Kat Sawyer
Poetry/Inspiration
5 stars on 8 reviews
Paperwork
Kindle
"Unique, inspiring, a small package with a lot of punch!"
This small pocket book fits right in your purse, so whenever you need to energize your mind, body or soul, you'll have the necessary inspiration at your fingertips. Yoga Poems and Meditations is a collection of 40 poetic observations – some playful, some profound – all springing from the "heart of the lotus."
First Place Winner

The Longest Trail: A True Story
by Roni McFadden
4.9 stars on 32 customer reviews
Paperback
Kindle
"A compelling coming of age narrative. Both insightful and heartfelt."
Roni McFadden writes her life's story as though it were a novel of a young girl set adrift in the California of the 1960s. She finds reprieve and peace on the back of her horse and tells her story in episodes with her inquisitive grandchildren gathered around during a family campout. Fatherless, McFadden credits the guiding hand of an older man who helps set her life aright. Fortunately for the reader, she has found the voice to tell us of her journey in a satisfying piece of writing. Let's hope she will tell more stories.
Lynn Bueling~Western Writers of America's Round Up Magazine
Honorable Mentions

The Sky and the Sea: Poetry and Prose
by Kevin J. Johnson
Paperback
Kindle
"Such gorgeous imagery is affecting and evocative…"
-Clarion Forward Reviews
"A slim but powerful debut collection of poetry…"
-Kirkus Reviews"
Worth Mentioning
These books were produced in part by LuckyCinda, therefore could not qualify for an award but are worth mentioning as both titles were a favorite among our judges. Of course, we recommend these books too.